ART INSPIRED
BY THE TAJ MAHAL
---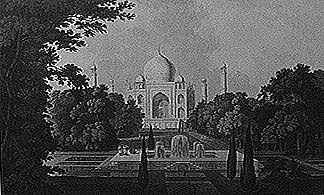 Thomas and William Danielle
The Taje Mahel, Agra, Taken in the Garden
Aquatint with hand coloring
The British Library, London

Albert Goodwin
Taj Sunset
Oil on board
Chris Beetles Ltd., London

Erastus Salisbury Field
The Taj Mahel and Its Gardens
Oil on canvas
Museum of Fine Arts,Mass.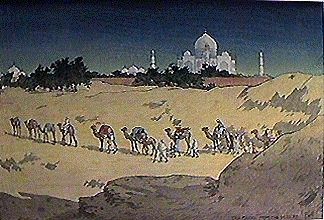 Charles Bartlett
Taj Mahal from the Desert
Color woodblock print
Honolulu Academy of Arts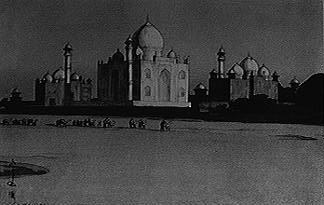 Hiroshi Yoshida
Approach to Agra
Color woodblock print
Anonymous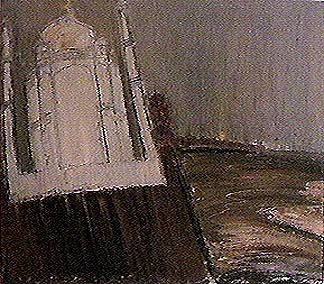 William Congdon
Taj Mahal
Oil and metallic paint on masonite
William Congdon, Milan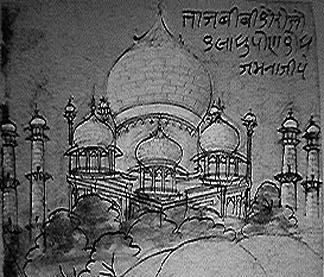 Taj Mahal
Ink and color on paper
Jan Vlug, Brussels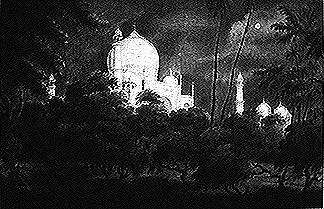 Sita Ram
The Taj Mahal by Moonlight
Opaque watercolor on paper
Arthur M. Sackler Museum, Mass.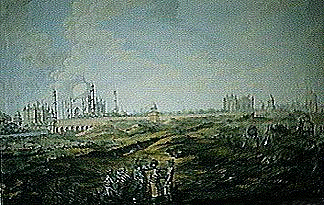 View of the Taj Mahal
Opaque watercolor on paper
Los Angeles Museum of Art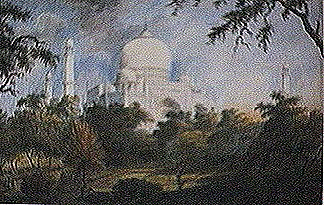 Sita Ram
Taj Mahal in Morning Light
Opaque watercolor on paper
Paul F. Walter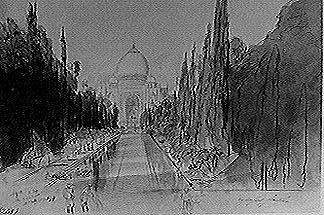 Edward Lear
Agra, The Taj
Watercolor on paper
The Houghton Library, Mass.

Hercules Brabazon Brabazon
The Taj Mahal, Agra
Watercolor and opaque watercolor on paper
Chris Beetles Ltd., London